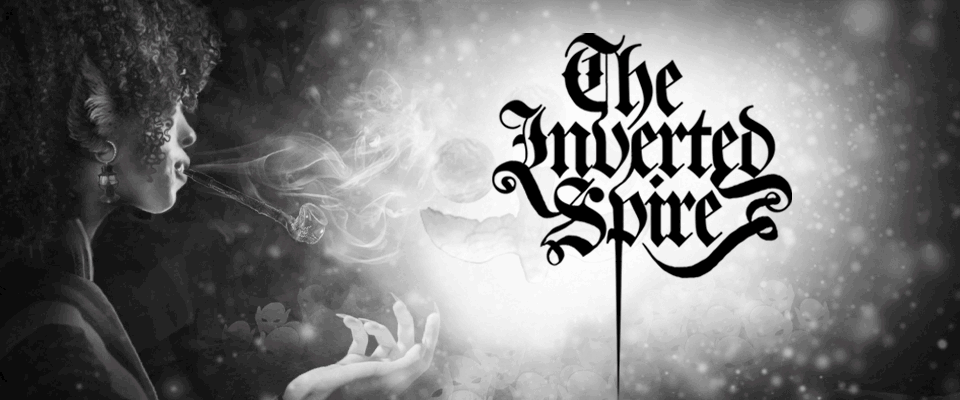 The Inverted Spire
Visual Novels as Theatre & Other Storytelling Inspirations
---
Welcome, dear readers, to another bimonthly dev log! Before we get into that, I'd like to let you know that we currently have ~a call for beta readers here. ~
Details are in the posting, but in general we are looking to share a playable version of the game with basic staging and few graphics (primarily placeholders from storyboards and the prototype) with our volunteer beta readers come the second week of September, and incorporate the feedback we receive by September 30th into making the end-of-October release the best it can be.
If the full details sound like they might be of interest to you, please don't hesitate to get in touch through the contact info in the posting!
Now, returning to our dev log~
We've got quite a lot simultaneously burbling and stirring behind the scenes right now, and only so much we can share with you before release. This means that unfortunately, we won't be able to get into the new aesthetics as much as we'd hoped. So instead, I'll be venturing a little outside details of the game itself to talk about another unusual, but highly significant influence on the worldbuilding and story development of TIS.

Speaking as Nicholai the writer, while I'm an avid fan of visual novels and IF, the earliest concepts for TIS actually developed organically from my theatre background.
I worked backstage doing set design and prop master work for a number of years, while moonlighting as an occasional animation model. During that time, one my most enduring favourites of the stage was Twelve Angry Jurors (also known as Twelve Angry Men). For those who are unfamiliar with the play: the entire story unfolds in a jury room, where the eponymous twelve angry jurors must decide on the verdict of a homicide trial. When a single dissenter emerges to challenge the nearly-unanimous verdict of guilty, a battle of the wits commences. As tempers fly high and prejudices are unveiled, the nameless dissenter (in a cast where each character is known simply by number) begins to slowly convince the room of the defendant's innocence.
Poster illustration for the 1957 Hollywood adaptation of Twelve Angry Men.

I know, I know—I just spoiled the ending! But this play has been out in the world since 1954, and I promise it's all about the journey.
Scene from Ek Ruka Hua Faisla (aka. A Pending Decision) directed by Basu Chatterjee.

One of the most interesting qualities of theatre manuscripts like this one is how adaptable they are to different settings, characters and time periods. It's been a little over six decades since Twelve Angry Men made its debut as an American teleplay, and since that time, its central concepts have been repurposed in countless languages and cultures across the world. From Xu Ang's 12 Citizens to Basu Chatterjee's A Pending Decision, and multiple initiatives to create all-female or gender-neutral version of the story, the manuscript was prime real estate for any director with a mind to tackle pressing social issues of the day.
Scene from 十二公民 (aka.Twelve Citizens) directed by Xu Ang.

A subjective observation of the thing yours truly loves best about theatre and visual novels alike is that I feel both mediums have a uniquely intimate quality in their relationship with the viewer.
Sitting in a crowded theatre at the moment when the lights dim, everyone quiets, and the curtain opens feels like a personal invitation into a parallel universe, where everything is both new and strangely familiar. When an actor speaks on stage, they aren't peering into a camera through the glass of your digital monitor, but speaking directly to you, the audience.
In a visual novel, you are likewise transported into another world (even if that world is a slice of life). You are spoken to directly, either as you take the form of an acting character in the story, or observe life through the protagonist's eyes.
The standard format of most visual novels is tailormade to facilitate this immersion. When character sprites or portraits appear on your screen, they're illustrated in a way that suggests they are looking through it, directly at you, the player. Your primary method of interaction with the world of a VN is usually not through jumping, crawling or fighting your way through, but in person-to-person interactions. It's the feelings you develop about these fictional relationships that become your primary motivation to keep going until the end.
Maybe you are beginning to see how my brain drew parallels between the character interactions in Twelve Angry Jurors and visual novels as the vehicle for telling a compelling story.
What if you were placed in the shoes of someone forced to convince a group of very different people about the outcome of major decisions that could deeply impact your life, or the lives of others?
Screenshot from Gyakuten Saiban (aka. Phoenix Wright: Ace Attorney)

Of course there are already several quite famous (and divisive) visual novels that toy with this concept in different forms. The long-running Phoenix Wright series is the most literal take on this theme, dropping you in the midst of a series of eccentric fictional courtroom dramas to play the role of a bumbling, but well-meaning defense attorney. Other examples include stories revolving around a Battle Royale-like death game, such as Nine Hours, Nine Persons, Nine Doors (aka. 999) and the over-the-top Danganronpa franchise. These VNs tend to downplay some of the qualities other games in the medium are best known for. Lengthy, Intimate relationship-building scenes between the protagonist and their favourite character, options to influence the personal development of characters as they overcome their respective crises, and a web of character-specific endings reached through your in-game choices—all of them take a backseat to engaging dialogue puzzles and a mystery-driven plotline.
Screenshot from a class trial sequence of Danganronpa: Trigger Happy Havoc.

But what if you were re-focus the lens of these stories on the protagonist's relationships, and intimate character studies of each member of the cast? What if you were to turn the dial on general zaniness, to place some of a death game story's darker, more existential implications (and related social issues) in the spotlight? You'd get something a little less Danganronpa and a little more Twelve Angry Jurors.
Screen capture from a new opening scene of the upcoming Inverted Spire release, where a travelling goblin performer tells their audience a story.

Of course, the thing about taking the zaniness out of a title like Danganronpa is that the outrageous antics and caricature-like personalities of its characters are half the point! And if Phoenix Wright were to attempt a highly realistic depiction of courtroom proceedings, the lion's share of its charm would immediately be stripped away.
Part of what makes these games as captivating as they are is that they are entirely self-conscious of their outlandish conceits. Their otherworld settings, which continually toy with player expectations of the familiar, make for a wild and exciting ride where the improbable becomes routine (and in this, they are also very much like the experience of theatre).
This brings me to another significant inspiration for The Inverted Spire that bridges the gap between different forms of storytelling: the speculative fantasy genre (particularly Ursula K. Leguin's The Left Hand of Darkness/other stories set in the Hainish universe) and New Weird (with much inspiration drawn from China Miéville's Perdido Street Station, and other novels set in the world of Bas-Lag). But that's a subject for another time ; )
So what's next?

You'll be hearing from us again on September 15th!
By then our beta readers will have received access to an early version of the new release, and we can get more into both aesthetic inspiration and narrative influences that made the game what it is.
Do have your own ideas about the relationship between theatre and visual novels (or other forms of interactive storytelling)? How about the courtroom drama motifs that drive dialogue puzzles and other mystery game mechanics in some of the most popular visual novels out there?
P.S. If you want to hear more behind-the scenes ramblings about my personal creative process, I also post threads on Twitter (as @yozhikisblue) about the writing and art of TIS every now and then, like this reflection on how old school animation like The Secrets of NIMH is an ongoing inspiration for TIS BGs.
Your thoughts and comments are always welcome. ~<3